Main content starts here, tab to start navigating
Menus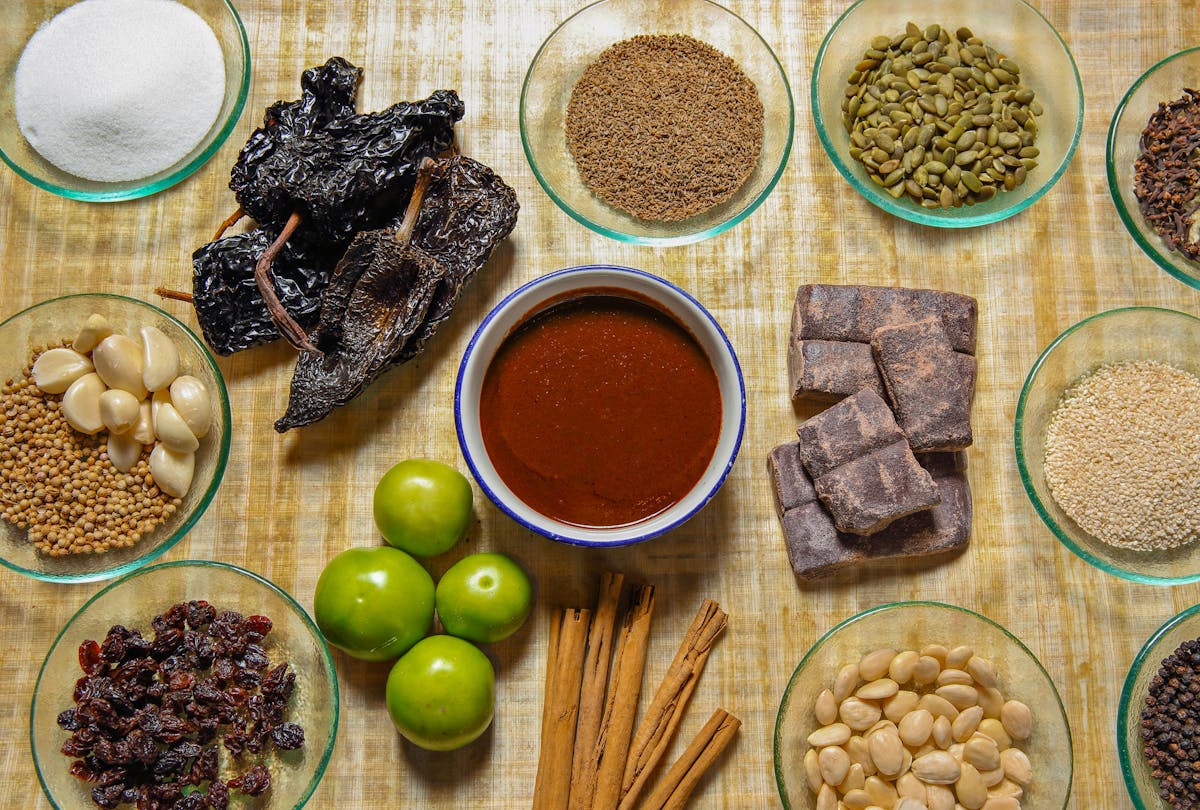 Open for lunch, dinner, and takeout, China Poblano's menu offers Chinese noodles, dim sum and soups, served alongside tacos, guacamole, and ceviches. Here the two cuisines live side by side, not as a fusion, but as an amusing mix of elements from both traditions, in one place.
FIRST BITES
Chips & Salsa

Chipotle salsa de casa

$6

Guacamole

Onions, cilantro, serrano, lime, tomatillos, queso fresco. Made fresh daily and served with your choice of warm corn tortillas or tortilla chips

$16

add crudite $4

Queso Fundido

Melted Menonita cheese flambéed with tequila and served with fresh hand-made tortillas

$13

add spicy chorizo $5

Rou Jia Mo

Chinese street sandwich with red-braised pork belly, cilantro and green onions stuffed into a house-made naan style bread

$11.88

Sopes de Chorizo con Papa

Crispy mini sopes filled with refried black beans, house-made chorizo, Yukon Gold potatoes, Mexican crema and scallion

$11

Empanada Atún Estilo Veracruz

3pc Deep-fried heirloom masa pouch filled with ahi tuna, tomatoes, onions, almonds, chiles, saffron, finished with an avocado crema

$18

Chilaquiles

House-made tortilla chips tossed with a tomatillo salsa, oven-roasted and topped with melted Menonita cheese, onion and cilantro

$15

add sunny side up egg* $3

Huevos Rancheros*

Fried corn tortillas, two sunny side up eggs, salsa molcajete, queso fresco, refried black beans, salsa pico, avocado

$16

Quesabirria

3pc Heirloom blue corn tortillas stuffed with lamb, beef, Menonita and Oaxacan cheeses, onions, cilantro, and served with consommé

$25

Envueltos de Mole

Mole Poblano served over heirloom corn tortillas with melted Oaxacan cheese, with queso fresco, sesame seeds, onions and radish

$18
SOUPS
Swallow a Cloud

Our rich wonton soup with fluffy house-made shrimp and pork wontons

$15.88

Try it with egg noodles! $2

Caldo Tlalpeño

Traditional chicken soup with arroz perfecto, avocado, garbanzo, carrots, a smoky chile-spiked broth and toasted chipotle pepper

$16

Pozole Rojo

Rich guajillo chile broth with shredded pork and hominy, served with chicharrón, avocado, cabbage, onion and lime

$16
SALADS Y CEVICHES
La Leng Mian

A refreshing cold noodle salad made with wheat noodles, peanuts, cucumber, pickled Fresno, crunchy garlic, sesame, black vinegar, spicy oil

$14.88

Cold Cucumbers

Persian and English cucumbers, wood ear mushroom, teardrop pepper, Chinkiang vinegar, chili oil

$10.88

Tuna Ceviche*

Sushi-grade ahi tuna tossed with a soy dressing, avocado, toasted pecans, cilantro, red onion and Fresno and serrano, topped with crispy amaranth

$20

Young Coconut Ceviche

Young coconut, avocado, teardrop pepper, onion and cilantro are dressed with fresh coconut water and citrus juices

$16

Ensalada César*

Baby romaine lettuce cups filled with avocado, zesty bread crumbs, Parmigiano Reggiano and Spanish anchovies

$17

Ensalada Delicata

Roasted delicata squash and pea shoots are gently tossed in a honey sherry dressing with a green onion crema, pomegranate and candied pumpkin seeds

$16

Aguachile Negro

Mexican Gulf shrimp and bay scallops, cucumber, jicama, lychee, serrano, lime, mint and squid ink

$24
TACOS
Tortillas are made with heirloom corn grown in Oaxaca, Mexico.
Carnitas

Braised pork, onions, cilantro, chicharrón, salsa verde cruda

$7

Pollo a la Parilla

Grilled chicken, guacamole, charred green onions, chile pequin

$7

Pescado Estilo Baja

Battered and fried seasonal fish, lime mayonnaise, cabbage, pico de gallo

$8

Nopales y Queso

Seared queso fresco, salt cured cactus, toasted pumpkin seeds, onions, salsa molcajete

$8

Viva China*

Crispy beef tendon, Szechuan-soy sauce, raw oyster, green onions

$8

Frijoles

Refried black beans, crema, requeson, onions, cilantro, chipotle sauce

$6

Hongos

Sauteéed mushrooms, roasted poblano, guacamole, fried epazote

$6

Papa

Salt roasted Yukon Gold potato, guacamole, queso fresco, pico de gallo

$6
VEGETABLES
Twenty Vegetable Fried Rice

Fried rice, mushrooms, egg, tofu and twenty seasonal vegetables. See if you can count them all!

$20.88

add chicken $6

add shrimp $10

add XO sauce $12

Wok-Roasted Green Beans

With ginger, garlic, onion, and Chile de árbol, finished with toasted almonds and a squeeze of fresh lime

$13.88

Yu Xiang Eggplant

Steamed Chinese eggplant, Fresno and shishito peppers, ginger, shallots, Chinkiang vinegar, garlic chili oil

$14.88
MEAT & SEAFOOD
Chicken Ji Song

5pc Lettuce cups with Kung Pao-style chicken and crispy sweet potato

$18.88

Mongolian Beef Lettuce*

Marinated beef seasoned with shishito peppers, onions, ginger, soy sauce and Chinkiang black vinegar, and wok-tossed with lettuce hearts

$20.88

Gan Pung Ji Wings

6pc Fried chicken wings tossed in our house-made chile sauce and served with a refreshing salad of cucumber and pickled Fresno chiles

$15.88

Camarones al Mojo de Ajo Negro

Wild-caught Gulf shrimp sauteéd with dried chiles, roasted poblanos, shallots and sweet aged black garlic

$22

Carne Asada Norteña*

Marinated and grilled 6oz flat iron steak, salsa molcajete, charred green onions, heirloom corn tortillas

$32
DIM SUM
Traditional Siu Mai

6pc Shrimp, pork, jicama, mushrooms, peanuts

$15.88

Quail Egg Siu Mai*

6pc Our Traditional Siu Mai topped with poached quail egg and fried garlic

$18.88

Chicken Sui Mai

6pc Chicken, cloud ear mushroom, goji berry

$15.88

Har Gow

6pc Translucent Cantonese dumpling, pork belly and shrimp filling

$15.88

Golden Pearls

5pc Vegetable steam dumpling with shiitake and wood ear mushrooms, carrot, celery and jicama

$15.88

When Pigs Fly

4pc Delicate steamed buns, Chinese barbecue pork

$15.88

Golden Pigs

4pc Fried steamed buns, Chinese barbecue pork, condensed milk

$15.88

Fried Wonton

7pc Filled with shrimp and pork, served with sesame dressing

$12.88
NOODLES
Braised Oxtail Noodle Soup

Oxtail stewed with Chinese spices and served over wheat noodles with bok choy, fried garlic and cilantro

$21.88

Li Mian Lo Mein

Chinese-style cured Virginia ham, wheat noodles, mushrooms and seasonal vegetables all come together in this Chinese comfort dish

$17.88

Road to Xi'an

Inspired by the spices traded along the Silk Road, this dish combines cumin and star anise with tender braised lamb, scallions, thick cut wheat noodles and pickled mushrooms

$18.88

18 Monk

Thick-cut wheat noodles stir fried in a rich sesame, soy sauce with carrots, celery, onions, shiitake and wood ear mushrooms, topped with pickled beech mushrooms and crispy sweet potato

$16.88

Dan Dan Mian

José's take on an original Chinese street classic: hand-cut wheat noodles with a rich Szechuan ground pork sauce, toasted peanuts, cilantro and chile pequin, finished with Chinkiang vinegar

$14.88
SWEET TREATS
Mango Sticky Rice

Our surprising version! Fresh rice cream layered with mangos and mango granita, coconut rice espuma, caramelized rice crispies and a hint of spice and lime

$12

Churros

Delicate fried pastry coated in sweet cinnamon sugar

$12

Uno, Dos, Tres Leches!

Milk-soaked cake, condensed milk espuma, banana, strawberry, raspberry dust

$15

Chocolate Terra Cotta Warrior

Dark chocolate warrior filled with milk chocolate mousse, caramelized bananas and ginger ice cream

$18

Ice Cream or Sorbet

Ask you server for today's selections!

$6
TASTING MENU
Chips & Salsa, Tuna Ceviche*, Young Coconut Ceviche, Quail Egg Siu Mai,* Golden Pig, Taco de Nopales y Queso, La Leng Mian, Camarones al Mojo de Ajo Negro, 20 Vegetable Fried Rice, and Mango Sticky Rice

$70 per person
* This item may be served with under-cooked ingredients. Consuming raw or under-cooked meats, poultry, seafood, shellfish, or eggs may increase your risk of foodborne illness, especially if you have certain medical conditions
COCKTAILS
Mexican Mimosa

Cava, agua fresca (daily selection)

$16

Mexican Gin & Tonic

Bombay Sapphire gin, St Germain elderflower, epazote, cilantro, orange, Fever-Tree tonic

$20

Autumn's Harmony

Tito's vodka, pamplemousse, allspice dram, lemon, chamomile, peppermint, egg white

$18

Puerto Escondido

Oaxacan rum, pineapple amaro, lime, cilantro

$19

Steal the Fire

El Silencio mezcal, dry curacao, grapefruit, cinnamon

$19

Invierno Rosa

Four Roses bourbon, apple brandy, cinnamon, chocolate bitters, ginger bitters

$18

Oaxacan Old Fashioned

Del Maguey Vida mezcal, agave, amaro Montenegro, orange bitters

$18
MARGARITAS
Salt Air Margarita

José Andrés' personal creation with fresh lime, salt "air"

$18

add pomegranate $1

Flaca

Milagro tequila, orange, agave, lime, orange bitters

$18

Ron Cooper

Milagro tequila, lime, sal de gusano, Del Maguey Vida mezcal

$20
BOTTLE BEER
Corona Premier, Negra Modelo, Modelo Especial, Tsingtao, Michelada

$8

sal de gusano $3

tomato sangrita $3

Belching Beaver Phantom Bride IPA

India Pale Ale, 16oz, 7.1% ABV

$13

Baja Brewing Por Favor IPA

Mexican IPA, 12oz, 7% ABV

$11

Hitachino Nest White Ale

Belgian White Ale, 330ml, 5.5% ABV

$15

Tenaya Creek Craft Pilsner

Lager, 12oz, 5.4% ABV

$9

Yanjing

Pale Lager, 12oz, 4.5% ABV

$10
SPARKLING WINE
Raventós i Blanc, 2019

Cuvée José, Spain

$64 per BTL

$16 per GL

Gruet

NV Brut Rosé, New Mexico

$56 per BTL

$14 per GL

Espuma de Piedra

NV Blanc de Blancs, Mexico

$95 per BTL

Guy Larmandier

NV Premier Cru Brut Zero, France

$140 per BTL

Geoffrey

NV Champagne Rosé de Saignée Brut, France

$190 per BTL
WHITE WINE
Case Magoni, 2021

Valle de Guadalupe Chardonnay, Mexico

$48 per BTL

$12 per GL

Sandhi, 2021

Central Coast Chardonnay, California $

$75 per BTL

Graff, 2020

Mosel Riesling Spatlese, Germany

$40 per BTL

$10 per GL

Claude Riffault, 2020

Les Chasseignes Sancerre, France

$120 per BTL

Loimer Lois, 2021

Niederösterreich Grüner Veltliner, Austria

$70 per BTL

Dönnhoff, 2021

Nahe Riesling, Germany

$70 per BTL
ROSÉ WINE
Matthiasson Tendu, 2020

Dunnigan Hills, California

$56 per BTL

$14 per GL
RED WINE
Allende, 2015

Rioja Tempranillo, Spain

$68 per BTL

$17 per GL

Casa Magoni, 2019

Valle de Guadalupe Merlot, Mexico

$56 per BTL

$14 per GL

Folktale, 2019

Santa Lucia Highlands Pinot Noir, California

$56 per BTL

$14 per GL

Jean Foillard, 2020

Beaujolais Villages Gamay, France

$75

Ensamble 2016

Valle de Guadalupe Red Blend, Mexico

$72
ALCOHOL FREE
Aguas Fresca

A Mexican juice specialty!

$5

Pepsi, Diet Pepsi, Mist Twist

$5

Jarritos

Assorted flavors

$6

Fever-Tree

Club Soda, Ginger Ale

$6

Topo Chico Sparkling Water

$8

Sant Aniol Bottled Water

$11
COFFEE & TEAS
Coffee press

Organic espresso blend by Zona Rosa

$12

Pot of Shanghai Rose Tea

Rose petals and black tea leaves infused with lychee

$8.88

Pot of Imperial Tung Ting Oolong Tea

"Frozen Summit" leaves lend to nutty aromas and complexity

$8.88

Pot of Floral Jasmine Green Tea

Sweet and bright with high antioxidants

$8.88

Pot of Harmony Tea

Chamomile, peppermint, orange blossoms and allspice

$8.88
Sunday - Thursday 5 PM -6 PM


MARGARITAS
Salt Air Margarita

José Andrés' personal creation with fresh lime, salt "air"

$12

Classic Margarita

Milagro Silver, fresh lime, salt rim

$12
CERVEZAS
Tsingtao

$5

Corona Premier

$5

Negra Modelo

$5
BITES
Chips & Salsa

Chipotle salsa de casa

$4

Chicken Siu Mai

6pc Chicken, cloud ear mushroom, goji berry

$11.88

Chicken Ji Song

2pc Lettuce cups with Kung Pao-style chicken and crispy sweet potato

$7.88

Friend Wonton

7pc Filled with shrimp and pork, served with sesame dressing

$9.88

Frijoles Taco

Refried black beans, crema, requeson, onions, cilantro, chipotle salsa

$5

Churros

Fried pastry coated in sweet cinnamon sugar

$8
Songshu Yu

Whole fried seasonal fish, pickled vegetables, puffed forbidden rice, seaweed, house-made sweet and sour sauce

$42.88

Ha Cheung Fun

Delicate rice noodle roll, Mexican Gulf shrimp, napa cabbage, lion's mane mushroom

$24.88

Chao Nian Gao

Stir-fried rice cakes, seasonal vegetables, mushrooms, bean sprouts, fried garlic, soy, and black bean garlic sauce

$15.88

Lucky 7

Pineapple and pomelo tart, orange zest and sugarcane cream, tangerine, apples, pomegranate, red grape reduction

$13.88
FEATURED COCKTAIL
Pears of Prosperity

Dewars White Label scotch, spiced pear, baijiu, lemon, orgeat, egg white

$18