Take-Home Holiday Feast for Four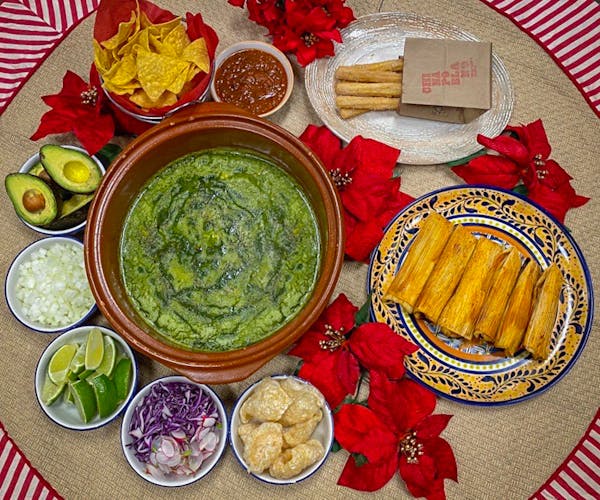 December 25 – January 3
Head Chef Carlos Cruz-Santos created a Holiday Feast for Four, perfect for celebrating at home! The Holiday Feast includes Pollo Tamales made with heirloom masa, rich Pozole Verde, house-made Chips and Salsa, and Churros for dessert.

Holiday Feast for Four $60
Chips and Salsa
chipotle salsa de casa and tequila-chipotle salted tortilla chips
Pollo Tamal
6pc - shredded chicken, mole poblano, heirloom masa, steamed in corn husks and served with salsa roja picante and chicharrones
Pozole Verde
64oz - shredded pork and hominy, tomatillo broth
Churros
8pc - delicate fried pastry coated in cinnamon sugar

Cocktails for Two
Classic Margaritas $20
Prickly Pear Margaritas $22
5-Spice Old Fashioned $22
Preorder the Holiday Feasts by Tuesday, December 22 at 2 PM to pick up your orders on December 25 - 26.

Preorder 48 hours in advance to place orders to pick-up on December 27 – January 3.