Día de los Muertos en su Casa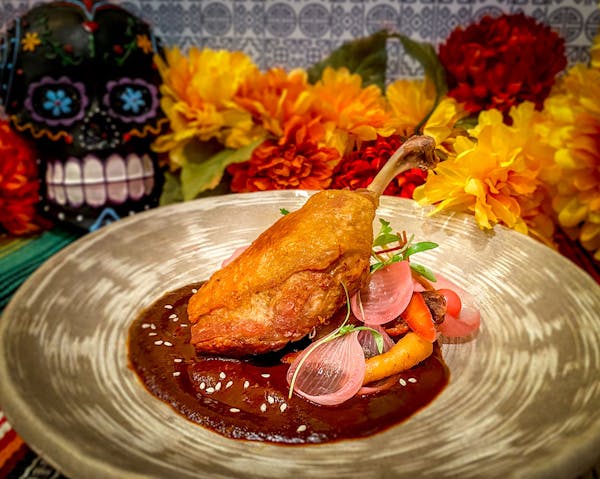 Celebrate Día de los Muertos with our take-home festival menu. Add the Classic or Prickly Pear Margaritas for Two to elevate your experience and enjoy your meal while listening to the songs of China Poblano (Spotify playlist included)!
The menu is inspired by Josefina Velázquez de León; chef, teacher and culinary anthropologist of the rich and diverse cuisine of Mexico. We dedicated this year's ofrenda to Josefina in honor of her work that has shaped the way the world shares and enjoys Mexican food.
Please come in to China Poblano to enjoy even more celebration specials October 30 through November 3.
Día de los Muertos Menu
(serves 1-2) $35
House Chips & Salsa
Tortilla chips dusted with chipotle-tequila salt, with smoky chipotle salsa
Pato con Mole Poblano
Duck leg confit, pan seared and served over house made mole Poblano with pickled micro vegetables and pearl onions
Camarones y Flor de Calabaza Chile Relleno
Chile poblano stuffed with shrimp, squash blossoms, tomato, garlic, and queso Oaxaca, battered and fried. Topped with fried squash blossom petals and salsa de chapulines.
Sugar Skull Cookies
2 Skull shaped sugar cookies decorated with the bright colors of Día de Los Muertos
Optional Add-Ons:
$8 Guacamole (4oz)
$15 Pato con Mole Poblano
$15 Camarones y Flor de Calabaza Chile Relleno
$5 Two Sugar Skull Cookies
Margarita Kit (for 2)
Includes pre-batched cocktails with limes, salt and your own China Poblano cocktail shaker!

CHOICE OF:

$20 Classic Margaritas: Milagro blanco and fresh lime
$22 Prickly Pear Margarita:Milagro silver, fresh lime and prickly pear