At Home with China Poblano – A Secret Burger Event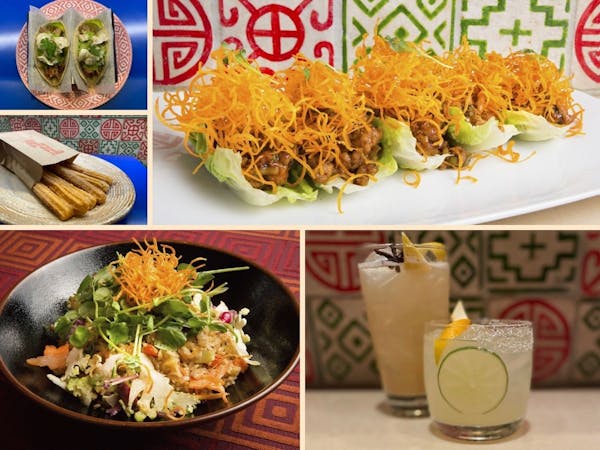 Experience the Food, Spirits and Songs of China Poblano at Home
Wednesday, August 19 | 3–7 PM
For the first time, we've created a unique package to bring the China Poblano experience to your casa! The Dinner for Two meal includes Chips, Guacamole and Salsa, Twenty Vegetable Fried Rice, Carnitas Tacos, Chicken Ji Song, Churros and Classic Margaritas.
Add the Flaca Margarita or the Ma Cocktail kit to elevate your experience and enjoy your meal while listening to the songs of China Poblano!
Reserve by Tuesday, August 18. Tickets are limited.
Dinner for Two**

$75
House-made Tortilla Chips, House-made Guacamole and Salsa de Chipotle
Twenty Vegetable Fried Rice: Fried rice, mushrooms, egg, and twenty seasonal vegetables. See if you can count them all!
Two Carnitas Tacos: Braised pork, onions, cilantro, chicharrón, salsa verde cruda
Chicken Ji Song: Four Lettuce cups with Kung Pao-style chicken and crispy sweet potato
Churros: Delicate fried pastry coated in sweet cinnamon sugar
Two Classic Margaritas: Milagro blanco, fresh lime
China Poblano Spotify playlist.
Add-Ons:
Cocktail for Two
$20
Includes prebatched cocktails, garnishes and our China Poblano cocktail shaker.
Choice of Cocktail:
Flaca Margarita: Orange-infused Milagro silver tequila, agave, lime, orange bitters
Ma Cocktail: Old Overholt rye whiskey, ginger, star anise, yuzu
*The Cosmopolitan of Las Vegas offers free parking for guests
**For 21 years or older. Proof of ID is required at time of pickup.